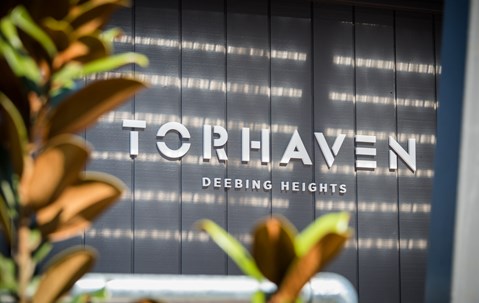 Affordability drives demand for new land release in ripley valley corridor
The latest land released at Torhaven in Deebing Heights is proving to be some of the most affordable in Queensland's fastest growing Ripley Valley corridor.
With land prices starting from $158,700 and house and land packages from $340,970 demand has been strong at Torhaven—more than half of the first lots released have already sold.
The first release in Torhaven's Parkside precinct offers 21 lots ranging from 340 to 735 sqm. With a major park and playground being delivered in the first stage of the development, and the Deebing Heights State School just across the road, Torhaven is the ideal place to raise a family.
Torhaven recently opened its new sales office located at Rawlings Road, Deebing Heights. The sales office features an innovative interactive touch screen digital masterplan. Using gaming technology, buyers can  walk down the streets of and see the view from their chosen block of land in virtual reality.
There are currently nine major new land subdivisions being marketed in the Ripley Valley area. Research by property group Oliver Hume shows the majority of buyers in the Ripley Valley area come from South East Queensland. About a third are from Ipswich, 25% from Springfield, 20% from Brisbane and approximately 10% from the North Lakes region of Moreton Bay.
Construction commenced at Torhaven in early 2018 and the site is currently being transformed into one of the Ripley Valley corridor's most beautiful elevated parkland communities. Lots in the first stage are due to be registered next month, with the first homes expected to be completed in mid-2019.
Torhaven is being developed by DHA Developments and marketed by Oliver Hume.
Oliver Hume Queensland General Manager, Matt Barr said affordability is a driving factor in the success of Torhaven.
'The average land price in the Ripley Valley is still under $200,000. By comparison, the average land price in Springfield Lakes is $277,750 and in Brisbane it's more than double at $417,500,' Mr Barr said.
'Despite the large volume of land coming to market in the Ripley corridor we are still seeing good price growth and high levels of sales. With Ipswich's population pushing through 200,000 last year and a range of major new infrastructure projects on the way, we don't see demand dissipating any time soon.'
DHA Development Manager, Meagan O'Shea said the first release of land was a major milestone for the project and Deebing Heights. Ms O'Shea said developments such as Torhaven had particular appeal to young families.
'With the new Deebing Heights Primary School across the road, and abundant natural corridors and parks across 20% of the 27-hectare site, we expect to see couples and families keen to take advantage of the affordable prices … even more so considering Torhaven's convenient location.
'Our primary function is to provide quality housing options for members of the Australian Defence Force and their families, but Torhaven's shady tree-lined streets, communal spaces, play parks and open green spaces will provide the fairytale home for all who are searching for a unique space to relax and unwind,' Ms O'Shea said.
Torhaven is located six kilometres from RAAF Base Amberley, four kilometres from the Yamanto Shopping Centre, 6.5 kilometres from Ipswich CBD and 47 kilometres from Brisbane CBD. It is bordered by Rawlings Road to the north, Grampian Drive to the east, and the Centenary Motorway to the west.
Comprising a total of 294 land lots over 27 hectares, Torhaven is set to deliver approximately 68 homes for Australian Defence Force personnel and their families. The remaining 226 lots are being sold to the public in staged releases, from 2018 through to 2021.