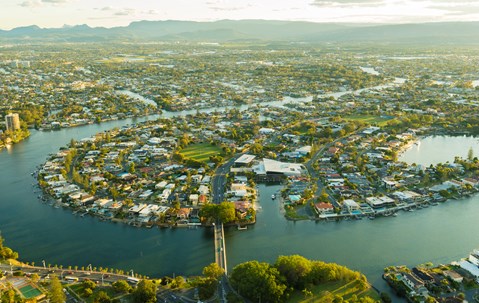 Gold Coast shines in new land market report
November 2018
After displaying healthy conditions and a strong pipeline of future infrastructure development, the Gold Coast has proven to be one of Queensland's strongest land markets in the September quarter of 2018.
The latest Oliver Hume Quarterly Market Insights (QMI) report revealed that the Gold Coast land market's median value rate was at $732 per square metre this year, which was an increase of 24% from the same time in 2017.
Prices also increased across the Gold Coast land market, with median land prices sitting at $333,688 during the September quarter.
Oliver Hume Queensland General Manager Matt Barr said the Gold Coast's median land price increased 9% over the past 12 months, largely due to an increase in demand from a growing population sweeping across the greater South East Queensland.
Oliver Hume's report revealed that Queensland's interstate migration rate increased 49% over the past year and was the highest in Australia, with 24,004 individuals ahead of Victoria and New South Wales.
"An improving economy and a relatively affordable land market means people are coming in droves to enjoy Queensland's conditions," Mr Barr said.
"With offerings of premium waterfront and large lot types on one end and small to medium lot types on the other, the Gold Coast land market remains one of the most attractive in SEQ."
The report showed that buyers in the Gold Coast region have been primarily in the market for land ranging from 400 – 500 square metres, despite the average popularity of land offerings between 300 and 400 square metres across SEQ
"Land between 400 and 500 square metres has been the most sought after opportunity in the Gold Coast land market, with lots ranging in these sizes taking a 38% market share," Mr Barr said.
Oliver Hume Chief Operating Officer Julian Coppini said that the Gold Coast's market conditions were certainly healthy and there is a better than average chance that values and overall popularity in the region would increase.
"Buyers are coming for the land and living potential, but could end up staying for everything else the Gold Coast has to offer in the coming years," he said.
"We are expecting the Gold Coast's cultural precinct and Coomera Town Centre to become big attractions, with light rail capabilities and airprot upgrades to connect everything together."
Oliver Hume's report highlighted that the Gold Coast currently has a $30 billion development pipeline and a $20 billion investment in residential development as well as $10 billion in private and public infrastructure. This will contribute $615 million to the Gold Coast light rail, $385 million to the Gold Coast Cultural Precinct and more to several other projects in the pipeline.