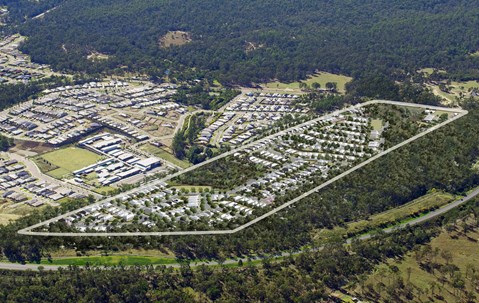 Strengthening economy fuels positive future for SEQ land market
South East Queensland land prices grew 1% over the three months to the end of June as a result of strong employment and population growth, taking total gains over the last 12 months to 3%.
Oliver Hume's latest Quarterly Market Insights national land market report, released today, showed the median land price across SEQ sits at $240,013, up just over $7,000 from the same period last year.
Brisbane and the Gold Coast recorded the highest median land prices, at $356,750 and $334,300 respectively. Redland was the next highest municipality with a median land price of $298,750 followed by Moreton Bay which was $259,988.
South East Queensland's more affordable municipalities were Logan and Ipswich which Oliver Hume's research revealed had median land prices of $213,200 and $207,550 respectively. While the more affordable regions compared to SEQ's major cities, Logan's median land price saw a four percent increase from the same quarter in 2017, while Ipswich saw a three percent increase.
Oliver Hume Queensland General Manager Matt Barr said that despite the sluggish start to the year, the figures for the South-East Queensland land market showed positive signs over the long term.
"Sales numbers increased by 24% from March Quarter 2018 across 129 projects in SEQ, while stock availability rose 10%," he said.
"With this growth in median prices and the continuous shrinking of lot sizes, the overall value rate in SEQ has risen 7% when compared to the same period in 2017, and now sits at $562 per sqm," he said.
Mr Barr said as finance continues to be elusive for many purchasers, developers were eager to hold off stage releases to shorten land registration periods, in an attempt to avoid high levels of finance-related cancellations.
"By the end of the June quarter the average registration period for lots currently available for purchase across SEQ was 2.7 months," he said.
"Coupled with these trends in shorter registration dates across the greenfield markets, was the significant increase in number the of lots released over the quarter, approximately 48% higher when compared to the previous quarter.
Oliver Hume Chief Operating Officer Julian Coppini said the SEQ market had not experienced the strong, broad-based growth of southern markets in recent years, leaving it well positioned to capitalise on the State's improving economic fundamentals.
"We would expect land in South East Queensland to remain buoyant over the medium term, with growing demand."
One of the key fundamentals driving current growth is interstate migration, which has come as a result of healthy growth in Queensland's employment opportunities.
Oliver Hume National Head of Research George Bougias said that SEQ employment growth had been the strongest in over a decade, and that interstate migration into Queensland was the highest rate in Australia.
"Employment growth is forecast to increase to 2.75% over the year to June 2018," he said.
"South-East Queensland is leading Queensland's transformation into a knowledge economy and expansion into various fast-growing industries, including many with significant export potential. This is typified by the focus on innovation and investment by policymakers implementing the State Government's Advance Queensland Initiative.
"Interstate migration continues to highlight the Queensland market as the flight to the Sunshine state continues with many of our southern counterparts seeking greener pastures. The comparatively affordable housing market and increasingly positive economic progress has drawn 22,510 interstate residents to Queensland over 2017. 
"The interstate migration rate has increased 49.7% from 2016 and is the highest rate in Australia. Over the past 5 years South-East Queensland has grown 7.8% with over 212,000 people now calling SEQ home," Mr Bougias said.
Oliver Hume reported that Queensland's development sector has been working to appropriately respond to these figures, with close to 207 projects either at pre-construction, under construction or completed with residual product across the combined Brisbane and Gold Coast LGAs.
However, research indicates that this represents a 30% decrease in the number of active projects monitored, compared to the June quarter 2017.
"Though there has been a decrease in the number of projects on market, a growing sign of the optimism continues in the current off-the-plan cycle in South East Queensland, with a noticeable pickup in new project launches being witnessed over 2018," Mr Bougias said.
"There are around 409 identified projects in the pipeline that are yet to go to market across the Brisbane and Gold Coast LGAs.
"In total, these projects will deliver a yield of an additional 64,054 units to the market."
For more information visit www.oliverhume.com.au
ENDS: Media enquiries to Ben Ready on 0415 743 838.