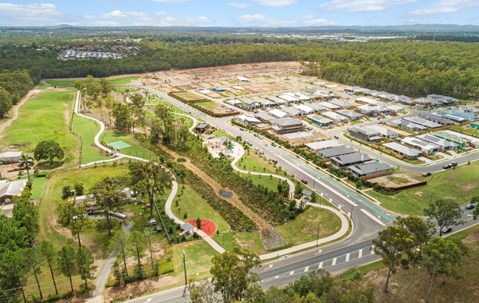 Carver's Reach unveils Display Village as sales soar to over $19m
The Carver's Reach masterplanned community at Park Ridge is launching a display village as surging demand catapults sales in the growth region.
Featuring 18 designer homes by Queensland's best builders, the new display village is designed to provide a window into the products and incredible lifestyle options on offer at Carver's Reach.
The display village launch this week caps an explosive start to the new year with more than $19 million in sales at Carver's Reach so far in 2021. 
Oliver Hume Queensland Project Director Matt Barr said there was overwhelming enquiry and interest in Carver's Reach as first home buyers swooped.
"Quality land in the Logan growth corridor is becoming increasingly hard to come by and new releases are being snapped up in a matter of days," he said.
"Demand is surging and Logan is continuing to be the highest selling region in South East Queensland.
"Around 30% of land sales in southeast Queensland all happened in the Logan corridor at the end of January.
"A lot of those sales are happening right here at Carver's Reach with homes in the estate accounting for almost a quarter of sales in the entire Logan corridor.
"The volume of sales is a strong sign of confidence in the quality of the project and the Park Ridge market."
The latest Quarterly Market Insights Report from Oliver Hume showed the Logan region was responsible for almost a third of all blocks of land sold during the December quarter at more than 540 sales.
Prices in Logan also saw the second highest surge over a five-year period, increasing 17.8 per cent.
The new display village will give prospective buyers insight into why Logan, and Carver's Reach, is proving to be incredibly sought-after.
Builders on display at the new village are Metricon, Bold Living, Elwood by Brighton Homes, Simonds, Hallmark, Capstone, Tribeca, OJ Pippin Homes, Stylemaster, Orbit Homes, Bawa Builders and Dr Homes.
David Whiteman, Director of Development at Golden Gate Property, said incredible lifestyle was at the heart of Carver's Reach and major facilities had been completed recently, including the second stage of the 6ha District Park.
"We had a vision for Carver's Reach from the very beginning," he said.
"We are building a community where families are enjoying everything that Queensland has to offer with plenty of high-quality parks, playgrounds and open space.
"The prime location coupled with the premium execution of the estate and parklands is what is attracting buyers to this community."
There's also gym and exercise stations, walking trails, as well as an off-leash dog park for active lifestyle lovers.
Carver's Reach is ideally located with easy access to the west via Mt Lindesay Highway, east via Chambers Flat Road, and north via the Logan Motorway.
The Greater Park Ridge area, which is inclusive of Boronia Heights, has a forecasted population of 29,987 by 2036 representing an increase of over 20,000 residents since the 2016 census, increasing the current population by 137% over a 20-year period.
"An immersive and exciting virtual display village has been created, which allows house hunters to take a tour of the project from the comfort of their own home."
The virtual display village offers a 360-degree tour of the estate's hot spots, parkland and completed homes.
For more information relating to Carver's Reach, please contact the sales team on 1800 514 883 
Tags:
Sales
New development
Community