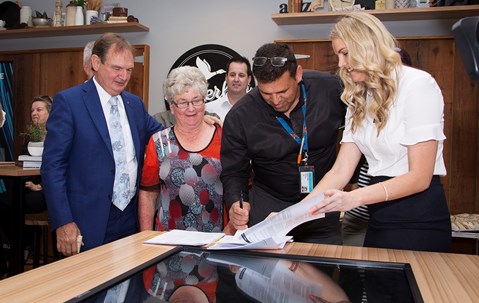 Ipswich property flying high on Amberley Base expansion
4 November 2016

A $1.5 billion expansion of Australia's largest air force base at Amberley near Ipswich has triggered a local property boom with a new $350 million masterplanned community set to capitalise on the nearly 2,000 new base staff and their families moving to the area.

On completion the Waterlea community will comprise of 1,500 homes across eight neighbourhood pockets with a population of about 4,500. Each community pocket will be connected by parks, hiking and bike trails, with community areas for concerts and vast green spaces all available for residents to enjoy.

Stage 1 of the 185 ha site is nearing completion with a selection of home sites ranging from 400sqm to 885sqm and prices starting at $159,000.

Waterlea is expected to make a major contribution to satisfying demand for new homes in the area with Ipswich's current population of 190,000 projected to increase to 435,000 by 2031.

Waterlea Development Manager Andrew Cook said the project would set a new benchmark for residential living in Ipswich.

"Being so close to the Amberley Air Base and with the massive investment in new facilities and people there, we are confident there will be plenty of demand for many years to come," he said.

"We've specifically designed Waterlea to facilitate a cohesive and modern community where people feel at home, enriched and welcome, and where community and amenity grow hand in glove over time."

The $1.5 billion Department of Defense commitment to Amberley RAAF base includes upgrading of facilities to host 24 new for F/A-18F Super Hornets, a new operating base for No. 35 Squadron and its fleet of 10 C-27J battlefield airlifters and new facilities for 12 EA-18G Growler airborne electronic attack aircraft.

Ipswich Mayor Paul Pisasale said the number of people working at Amberley would increase from 5,250 to more than 7,000 by 2019.

"This new estate is ideally positioned to capitalise on an increase in the workforce at Amberley as well as growth across the wider Ipswich region," Cr Pisasale said.

"Ipswich is one of the fastest growing areas in Australia and currently home to more than 196,000 people with the city's population expected to reach 520,000 by 2041.

"Providing a job is one of the most important things you can do for a person and the creation of high quality affordable housing is important to the success of our city.

Cr Pisasale said Waterlea estate at Walloon would strongly benefit those who work and serve at RAAF Amberley.

"The men and women who serve at RAAF Amberley are a vital part of the Ipswich community and this presents an opportunity for them to access quality, affordable housing close to the base."

Mr Cook said he looked forward to playing a large part in Ipswich's significant transformation and growth with Waterlea.

"It will be a great place for those looking to live in a brand-new, close-knit community in the west," he said. "Our vision was to show commitment to restoring local ecosystems, with an offering shaped by nature and enhanced through sensitive environmental design.

"A serpentine creek is the jewel in the crown of Waterlea with its formal edge framed by gardens, creating a family-oriented, relaxing community; Ipswich hasn't seen a development like this since Springfield Lakes," he said.

"The project provides high-quality residential offerings on large blocks, with plenty of open space and recreational facilities, as well as public access to the waterfront cafe overlooking water.

Waterlea sits 12 kilometres from Ipswich's CBD and will adjoin the established township of Walloon where residents are within walking distance to its train station, school, and its retail precinct including an IGA supermarket, medical centre, hotel and bakery.

Oliver Hume Joint Managing Director Queensland Brinton Keath said Waterlea was an impressive project providing residents with easy access to Ipswich and Brisbane.

"The project will combine choice with affordability to demonstrate how well-masterplanned projects can revitalise an area and empower communities to fulfil their potential. Waterlea delivers a strong vision for the site, but also for the broader Ipswich precinct," he said.

"Waterlea will deliver the perfect residential address; the project is a shining example of a stunning residential transformation, and will add to the boom currently underway in this south-west corridor," he said.

Waterlea Joint Project Director Adam Kaye said he was proud to be part of such a community-driven development.

"We immediately recognised the significance of Waterlea, and the opportunity to set a new benchmark for affordable community living in the West. IDA Property Group is proud to be a partner in delivering such a high quality residential offering and participating in the wave of economic activity emerging within the Ipswich municipality. We are confident Waterlea will be a great success," he said.
Tags:
Sales